Storm Crow Home
Main content starts here, tab to start navigating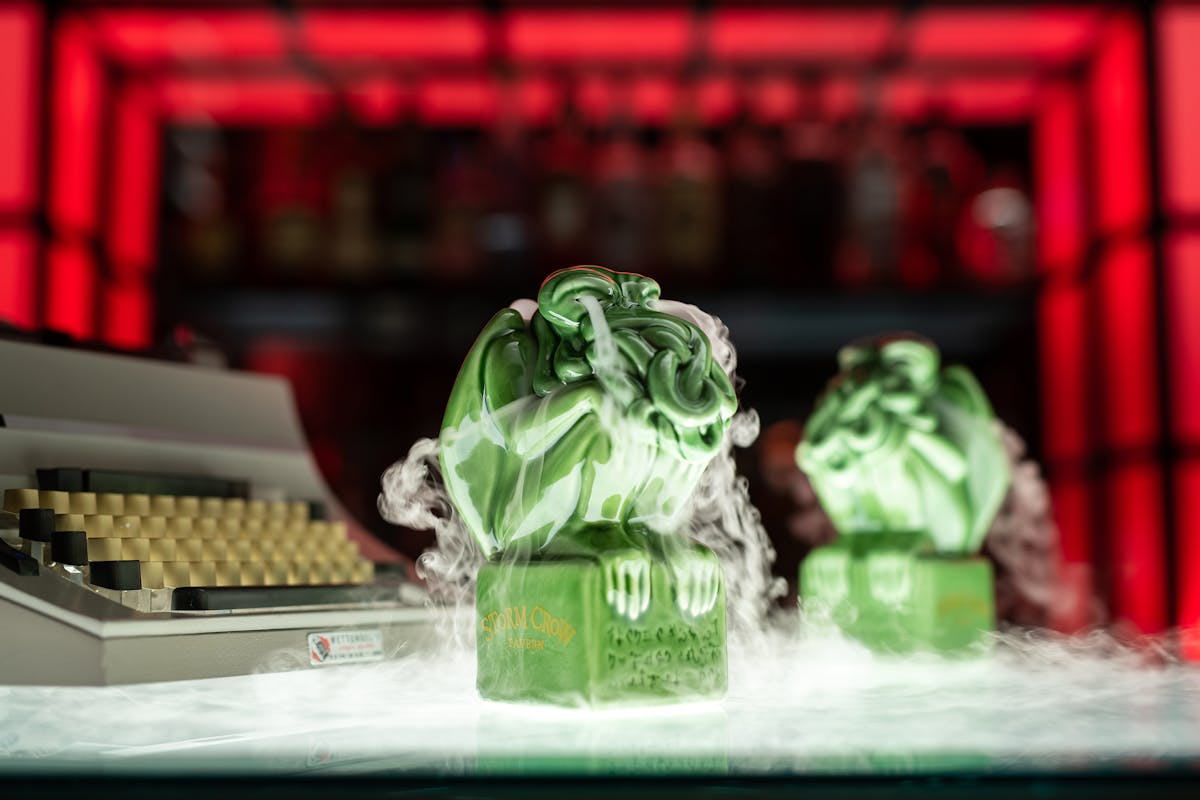 Storm Crow Manor
Announcements and Special Events:
Party to Walhalla - NYE Party at Storm Crow Manor: Get your tickets!

Nerdin' Trivia every 1st and 3rd Tuesday of the month: See available dates
Rue Morgue Horror Trivia every last Wednesday of the month: See available dates
Planning a holiday gathering and think we'd be a cool place to host it? Contact us! Dates for November/December are filling up fast so inquire about your private party today. Click for private bookings details.

**HOLIDAY HOURS**
Please note our holiday-specific hours on the following dates:
December 16 - 12 - 6:30pm
December 24 - Closed
December 25 - Closed
December 26 - Closed
January 1 - Closed
January 2 - 4pm-11pm
---

The Manor is now open for indoor dining, takeout and delivery! Reserve your table
---
Roll for a Dungeon Burger, test your luck with our Random Shots, and enjoy one of our signature bubbling beverages in one of eight thrillingly themed rooms at Canada's nerdiest restaurant.
Follow us on: Facebook Twitter Instagram
Buy Tickets for NYE
Storm Crow Shop
Join us at the Storm Crow Shop, purveyors of the best nerdy stuff in the multiverse! We started as a small collection of "nerd bars" in Canada, and now we're bringing our particular brand of high geekiness to you in your own home.
All of our goodies are designed in, and shipped from, Vancouver, BC on Canada's beautiful west coast.
We hope you love our extremely nerd things as much as we love designing and making them. Which is A LOT.
To shop our exclusive collection of dice, pins, tees, totes, drinkware and more - click here.
FREE SHIPPING within the US and Canada on orders over $75!
International shipping available.
Visit the Shop
About the Manor
The story so far...
In 2012 PopCap Games founder Jason Kapalka had the idea of opening a "nerd bar" on Vancouver's funky Commercial Drive… a sports bar for geeks, stuffed with board games, fantasy memorabilia, and sci-fi-themed drinks and food.
This became the infamous Storm Crow Tavern, followed several years later by the Storm Crow Alehouse on the west side of Vancouver (both bars recently closed due to the pandemic).
While these were popular nerd havens on the west coast, an expansion to Toronto had always been planned… and when the abandoned heritage mansion at 580 Church was discovered it was love at first sight, despite the nests of raccoons and other critters.
It took more than a year to renovate the hundred year old building but the results were worth it: three stories of weird and fantastical rooms, from the subterranean dungeon bathrooms to the mad scientist chic of the Mary Shelley bar to the Cyberpunk Lounge to the surreal, hidden Black Lodge.
The pub-style menu is highlighted by the Dungeon Burger, a sandwich you can randomly roll with twenty-sided dice, while the cocktails include incandescent bubbling concoctions like Romulan Ale, Butterbeer and a 2-person cocktail served in Darth Vader's helmet.
It's an experiential drinking and dining experience like no other located in the heart of Toronto. From legendary halloween parties, monthly trivia nights, and special D&D events, Storm Crow Manor is a haven for the geek community attracting fellow nerds both local and abroad.